MATERIAL OF SPECIAL INTEREST OR VALUE FEATURED FROM TIME TO TIME
TIMELINE OF ABUSE ACROSS THE NATION
abc.net.au/news/2017-12-12/royal-commission-child-sexual-abuse-timeline/922281
Kieran Tapsell reviews the recently released RMIT report on the front page of the US National Catholic Reporter
University report lifts the lid on child sexual abuse in the Catholic Church
Sep 23, 2017
MELBOURNE, AUSTRALIA — The most comprehensive report ever published on the systemic reasons behind child sexual abuse in the Catholic Church has recently been released.
The August 2017 report, Child Sexual Abuse in the Catholic Church: An Interpretive Review of the Literature and Public Inquiry Reports, examined 26 commissions of inquiry, scientific research and literature since 1985 to find common features in the culture, history and structures of the church and the psychological, social and theological factors that contributed to the tragedy.
The report, five years in the making, comes from a research team at the Centre for Global Research at the Royal Melbourne Institute of Technology (RMIT) University headed by Desmond Cahill and Peter Wilkinson.
The research team's conclusions in this highly readable 379-page document confirm the view of the psychologist Philip Zimbardo that if you find many bad apples in a barrel, there has to be something wrong with the barrel. The pattern of abuse and cover up was the same all over the world.
Cahill is a psychologist and professor emeritus of RMIT University, and Wilkinson holds a licentiate and doctorate in missiology from the Pontifical Gregorian University in Rome. Both are former Catholic priests, Cahill of the Melbourne Archdiocese and Wilkinson formerly with the Missionary Society of St. Columban.
The authors were also consultants to the Australian Royal Commission into Institutional Responses to Child Sexual Abuse in 2015, and that commission's findings to date are peppered throughout the report.
[...]
The report sets out the conclusions of all the most important inquiries both by the church and independent bodies in Ireland, the United States, Australia and Europe, including some that are not so well known, such as the Deetman Commission in the Netherlands.
It details the history of priestly formation, particularly from the time of the Council of Trent, where the policy was to take young boys away from their families and put them into minor seminaries. This turned out to be a disaster, giving rise to a much greater likelihood of sexually and psychologically immature priests becoming fixated on children.
[...]
The report also rejects the claim that the Second Vatican Council and the sexual revolution were responsible for the outbreak of child sexual abuse, as some have claimed. It also examines various theological and pastoral factors, including "cheap forgiveness" through confession. Despite claims by church spokesmen that the seal of the confessional is inviolable, the authors point out that this has not always been the case.
The report examines in some detail the profiles of the abusing priests and concludes that while celibacy is not of itself a cause of child sexual abuse, it is the major risk factor when combined with poor psychosexual development through the seminary system. The psychological studies have found that homosexuality as such is not the cause of abuse, but when gay seminarians do not come to terms with their orientation in the church's closed homophobic environment, it is more difficult for them to become psychosexually mature enough to resist opportunities with minors.
[...]
The report calls for significant rethinking of many aspects of the church's culture and practice, including its structures and secrecy under canon law, clericalism, sexual morality, the theology of the priesthood and seminary training.
Cahill, Wilkinson and their research team at RMIT University have created a very professional and thoroughly readable synthesis of all the relevant information about child sexual abuse in the Catholic church. The reader is presented with a convincing insight into why the church stumbled so badly over this issue.
Download the full 384 page RMIT study by Cahill and Wilkinson at:
https://www.rmit.edu.au/content/dam/rmit/documents/news/church-abuse/child-sex-abuse-an...
The journey does continue, and many achievements stand as milestones since this protest on the steps of the St Patrick's cathedral, Melbourne, in 2008.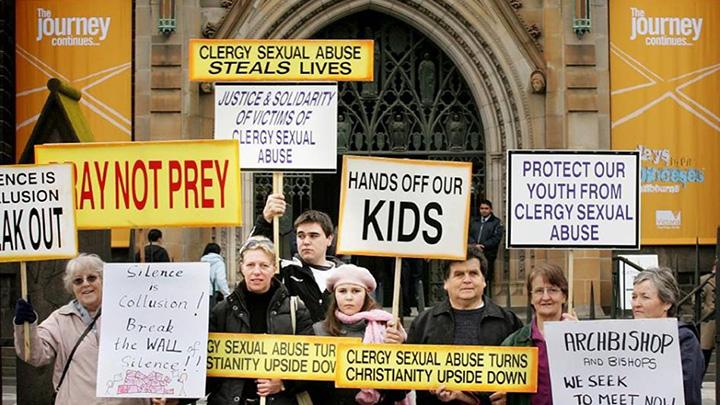 Act now against the criminals protected by the Catholic Church
Chrissie Foster in The Australian
http://www.theaustralian.com.au/opinion/act-now-against-the-criminals-protected-by-the-...
It is difficult to stop crying.
A child sexual abuse expert from the US, Bruce Perry, simply picked a random example. He spoke via video link to the Royal Commission into Institutional ­Responses to Child Sexual Abuse; he was one of 36 experts in the field who gave evidence last week at the final public hearing of the royal commission, titled Case Study 57: Nature, Cause and Impact of Child Sexual Abuse. Perry's example was of "a little five-year-old child and somebody is raping you", and he talked of what it does to the young mind.
They were painful words to hear because that is what happened to our little five-year-old Emma and, not long after, to our six-year-old Katie. To hear what their infant minds had to deal with was crushing — a dreadful add-on to the vision of rape by the priest, which already haunts us.
It was like a knife to the heart.
That priest was Kevin O'Donnell; he was 66 years older than Emma; he was our parish priest, with access to the primary school and its 300 children where I, as a Catholic, sent our girls. He went to prison in 1995 for 14 months for sexually assaulting children (rape charges were dropped in a plea bargain). I ­believe that from 1958 until he was arrested, he sex­ually assaulted at least 100 children.
Memories haunted our girls. Emma took her life aged 26 after a traumatic teenage and young adult life filled with despair, self-harming and drug addiction. Katie began binge drinking and was hit by a car while drunk. She spent 12 months in hospital and now, 18 years later, still receives 24-hour care, as she always will. Childhood sexual abuse was the cause and self-destructive behaviour was the impact.
Four weeks before came Case Study 50, titled Catholic Church in Australia, a three-week hearing during which Australia's arch­bishops gave disturbing testimony.
In his evidence, on three occasions Hobart Archbishop Julian Porteous said the reason they did not act to stop child sexual abuse was ­because "nobody under­stood the seriousness of the effects of sexual abuse on children". This common, if absurd, excuse has been used by the hierarchy, both here and overseas, since 1994. In using it, they admit knowing about the crimes. And not stopping them. Crimes that ­attracted the death penalty until 1961.
Brisbane Archbishop Mark Coleridge stated: "I have no right to go to a priest, who is not an ­employee of mine, and say, 'Excuse me, are you in a sexual relationship?' " What if that "sexual relationship" was with a child?
When, on a panel of five archbishops, one described the forced, often violent, rape of thousands of children as "misbehaving", not one of them said a word. God almighty, what is wrong with these sanctimonious men of religion? What do they need to make them understand? Another $450 million royal commission?
I once handed my most precious treasure, my three children, to the Catholic Church for their primary school education and at that school was the pedophile O'Donnell. The archbishop of Melbourne, Frank Little, knew about O'Donnell's crimes by then. Evidence before the royal commission has told us that in 1986, the year before Emma ­started school, Little received a letter from a nun informing him that O'Donnell had sexually ­assaulted a boy over several years.
Little did nothing — an act of criminal neglect.
This was not the only time Little put his priests before the safety of Catholic children. In 1978 a magistrate and a barrister approa­ched him about a boy in their parish who had been sexually assaulted by priest Bill Baker. The archbishop yelled at the two men to leave his office. But he acted: days later he transferred Baker to ­another parish, where his crimes were not known. As adults, some of his victims went to police. Baker was jailed for a few of his crimes and then lived on a generous church pension.
Further royal commission evidence shows the Catholic hierarchy was told in 1958 that O'Donnell was raping children. They did nothing and he raped others freely for another 34 years until retiring with an honorary title from the church.
Can today's archbishops be trusted with the safety and lives of your children?
We don't have to look far for the answer.
Last year some parents in Melbourne tried to ­remove from their parish a priest after newspapers reported that the church had made a $75,000 payout to a victim of his sexual abuse. The royal commission has established that the maximum of $75,000 is only awarded in the very worst cases. Tellingly, the church sided with the priest, who denied the abuse, against the parents. Eventually, he was transferred. His new parishioners complained. He was moved again. His present ­location is unknown.
We have lost count of how many victims of priests have taken their lives. Of course, the crimes devastate parents and grandparents of victims, siblings, spouses and children of victims, and loving friends. Emma's closest friend, Lu, took her own life five months after Emma.
Where were the church hierarchy representatives at this final royal commission hearing? There was much they stood to learn about the damage their colleagues had done to the 4445 victims in their care. They might have better understood these blighted lives, perhaps even developed some empathy for them. But no. They stayed away. All of them.
They didn't care then and they don't care now.
Note: We reproduce below the full text of an article in the Sydney Morning Herald marking the final hearing day of the Royal Commission. We recognise it is not usual to copy an article in full into another website. However we want to make this an opportunity to acknowledge the significant role played by Fairfax Media in the establishment of the Royal Commission and in reporting on its work. Many excellent reports have kept the issue before the public, outstanding those of Joanne Macarthy in the Newcastle Herald. Thank you all.
Survivors demand action as sex abuse royal commission hearings conclude
Three-and-a-half years after the child sex abuse royal commission held its first public inquiry, its final hearing returned to the survivors who started it all.
They had a strong message for governments, institutions and the community: no child should suffer as they did.
Video duration02:20
Child abuse Royal Commission: a look back
Savannah Szoredi told of her hope to break the cycle of abuse, having grown up in a volatile family as a result of her mother being sexually assaulted while in state care.
"She understood the injustices which had happened to her and tried to work her hardest to be the best parent she could be," Ms Szoredi told the Royal Commission into Institutional Responses to Child Sexual Abuse.
"She was a survivor and she was proud of that as am I."
Now 24 and the mother of a young son, Ms Szoredi described a childhood marred by her mother's mental health problems, drug addiction and poverty.
"Today I feel sad because it could have been so different without all the trauma and my life could have been normal," she said.
Ms Szoredi's father was murdered when she was six; her mother died five years ago aged only 50.
Robert Cummings, Steve Smith, Damian de Marco, Ivan Clarke. Front row: Aileen Ashford, Penny Rose and Sandra Kitching, after giving evidence. Photo: Daniel Munoz
"My son will never get to meet his grandparents and I will never get to share that experience with them," she said.
"I am determined to break the cycle so that my son is not affected by any traits I may have developed through growing up in this environment."
Savannah Szoredi hopes for a better future after a volatile family life due to her mother's abuse in state care. Photo: Daniel Munoz
A group of survivors calling themselves the Magnificent Seven echoed Ms Szoredi's hopes for a better future as they brought the final public hearing to a close.
Penny Rose, Sandra Kitching, Robert Cummings, Damian de Marco, Ivan Clarke, Steve Smith and Aileen Ashford come from vastly different walks of life but all felt the devastating impact of abuse.
When asked what should change, Mr Cummings told the inquiry: "What I would like to see is no more royal commissions. It is time to stop the inquiries and start putting actions into place."
Mr Smith agreed, telling the commission: "We should never again find ourselves in this situation where generations have been devastated and lives have been lost due to the indifference and self-serving attitudes of institutions in this country."
Mr de Marco described the impact of child abuse as: "Australia's number one health and welfare problem."
Mr Clarke urged the community to listen to children who make disclosures.
"The voice of a child is only as loud as the adult hearing it allows it to be," he said. "A fractured child becomes a broken adult."
Above all, said Ms Kitching: "Children have the right to be safe."
The chairman of the commission, Justice Peter McClellan, paid tribute to the survivors in his closing remarks.
"We have been told by many people that the public hearings have had a profound effect on the community's understanding of the nature and impact of the sexual abuse of children in Australia," he said.
"This is primarily due to the courage and determination of the survivors who have given evidence. Without them our public hearings would be a hollow attempt to tell their story. Without them the realities of child sexual abuse and the extent of institutional failure could not be recognised."
The royal commission will hand down its final report in December.
Blue Knot Helpline 1300 657 380
Care Leavers Australasia Network 1800 008 774
A look back at the royal commission
The royal commission has heard from 1200 witnesses over 400 days of public hearings into institutions ranging from schools to churches and sports clubs. Here are some of the most significant moments.
Cardinal George Pell
One of the highest profile witnesses, the cardinal made three appearances at the commission where he was called on to give evidence about how the Catholic church responded to allegations of child sexual abuse.
Unable to travel from Rome due to a medical condition, the cardinal made his final appearance from Rome in 2016, under the watchful gaze of survivors who travelled to see him.
Grilled over four days, his claims to be ignorant of widespread offending were described as "implausible" by counsel assisting the commission Gail Furness SC.
Knox Grammar
Over twelve days of extraordinary revelations, the commission heard how former Knox Grammar headmaster Ian Paterson systematically covered up multiple claims of abuse to protect the reputation of the private school.
The commission heard he hindered legal inquiries and deliberately misled a police officer investigating allegations.
In a stunning about face, Dr Paterson later recanted his testimony but this did not dissuade the commissioners from making damning findings about his actions in a report handed down last year.
Catholic church data
An analysis of claims against the Catholic church revealed the staggering extent of allegations of child sexual abuse for the first time.
The data, collated from claims made between 1980-2015, showed 4,445 people alleged they were abused as children in Catholic institutions, identifying a total of 1880 alleged perpetrators.
An analysis of alleged perpetrators in male religious orders between 1950-2010, found the highest proportion in St John of God (40 per cent), followed by the Christian Brothers (22 per cent), the Salesians of Don Bosco (21.9 per cent) and the Marist Brothers (20.4 per cent).
The Salvation Army
One of the first institutions to appear at the royal commission, the Salvation Army was the subject of four hearings between 2014-16. The first, held in January 2014, publicly detailed for the first time the brutal conditions at Salvation Army children's homes last century.
Former residents told the royal commission of horrific beatings and sexual assaults at the hands of the Salvation Army officers entrusted to care for them.
The fourth hearing, held in December 2016, heard the organisation had under-compensated dozens of people who suffered abuse in its care and still had more to do to improve child protection.
Newcastle
Newcastle featured prominently in the royal commission which heard evidence about widespread allegations of sexual abuse in both Anglican and Catholic institutions at two hearings in August last year.
Roger Herft, a former Anglican bishop of Newcastle, resigned from his position as archbishop of Perth after admitting he let down survivors of sexual abuse.
The inquiry into the Catholic Diocese of Maitland-Newcastle heard of a "long and disturbing history of suffering by children". Philip Wilson, a former East Maitland parish priest now Archbishop of Adelaide, is defending a charge that he allegedly covered up abuse in the Hunter.
Francis Sullivan, to Catalyist for Renewal Inc, Sydney, March 10, 2017
http://www.tjhcouncil.org.au/media/132927/170310-SPEECH-Catalyst-for-Renewal-Hunters-Hill-Francis-Sullivan.pdf
For me, key to this are two questions:
what is it about us as a people that we were so permissive and docile that we didn't demand more transparency, accountability and integrity from our administrator?
and
why have we been prepared as a Catholic community to not address issues as matters of urgency and profound importance, preferring instead for the most part to sit on our hands and grumble from outside the boundary line?
This passivity in the Catholic community, in large part, comes from the encultured way in which even highly intelligent people acquiesce to authority figures in the Church.
It becomes what I like to describe as the 'altar boy' syndrome.
In truth it is adults not acting with responsibility, not taking part with a mature yet demanding sense of agency within the Church.
When this doesn't happen, as was certainly the case up till more recent times, we are left with blind loyalty instead of mature conversation.
We are left with blinkered defensiveness and kneejerk reactions rather than open - mindedness, willingness and engagement.
Richard Adams
Thursday, 16 February 2017
In this article Richard offers a penetrating analysis of the issues at stake for us, asking some very pointed questions of catholics, and for that matter of all christians and all concerned citizens. Nobody can wash their hands in this issue and say: "I had nothing to do with it!" What Richard asks here of catholics, the Royal Commission will be asking of every Australia before they're done:
Surely we need to ask what it is in our theology, our actual beliefs, our rules and practices, our structures, has allowed so much evil to happen to children and the vulnerable. Now I think that whether the Church leadership likes it or not, and one suspects that they won't, the Royal Commission is going to be asking such questions and perhaps suggesting some uncomfortable answers. [Read More]

http://www.rte.ie/tv/wouldyoubelieve/index.html
Why do we treat sex offenders as pariahs? Are they all beyond redemption? What should we do with sex offenders to ensure there are no more victims?
Beyond Redemption?, a Would You Believe? special on RTÉ One, broadcast on Thursday, October 20th, looks at the way we deal with sex offenders who have been released back into society.
What is Loud Fence?
On Saturday, April 2, 2016, a group met at the Brighton parish to tie ribbons to the fence. What is Loud Fence? [Read more]
At the washing of the feet on Holy Thursday, 2016, in Healesville parish the pain suffered by many was faced for the first time from the altar:
We have seen treachery in this parish where not one but two of the priests have abused the most vulnerable, our children. Jesus wanted to be handed over to death by his chosen disciple precisely so that he could be with the victims and families of this parish. He wanted to share their grief, he wanted to be with them in their deep anger. [Read more]

Canon Law on Child Sexual Abuse through the ages
Kieran Tapsell, author of Potiphar's Wife, has provided a most comprehensive treatment of this vital subject. (19 pages in pdf format. Published by Catholica) [Read more]
Safe as Churches?
Address by the Hon Peter McClellan, Chair, Royal Commission into Institutional Responses to Child Sexual Abuse, at the National Council of Churches in Australia Conference, Sydney, Thursday 10 September, 2015 [Read more]
Australian Church's history re abuse "shameful, corrosive and complicit"
Address by Francis Sullivan, CEO Truth Justice and Healing Council, in the Blackfriars Lecture Series - Australian Catholic University. Tuesday 20 October 2015 [Read more]
Family rape victims delivered to a worse hell
Madeleine Hamilton PhD writes about the atrocious lack of care, or even safety, for victims of child abuse at Winlaton through the 60s, 70s and 80s. (Eureka Street) [Read more]
Causes, effects and prevention
Professor Carolyn Quadrio of the School of Psychiatry at the University of NSW, a consultant child and family and forensic psychiatrist, provides a full and sympathetic overview of the incidence, effects, causes and outcomes of Child Sexual Abuse. (From the Royal Commission, Case Study 28, Ballarat.) [Read more]
What is the Damage?
Just as some are in denial about climate change, so some folk find themselves closing their ears when there's talk of sexual abuse of children. It's too horrible to think about. It happens, nonetheless, and we need to have some idea of the damage victims have to live with. In this sensitively-written article, Richard Adams explains some of the devastating effects of abuse. [Read more]