A MASS TO REMEMBER
St Brigid's, Healesville. 25.10.17
A friendly murmur filled St Brigid's church as the congregation mingled, greeting friends and acquaintances old and new, on a warm spring evening in late October.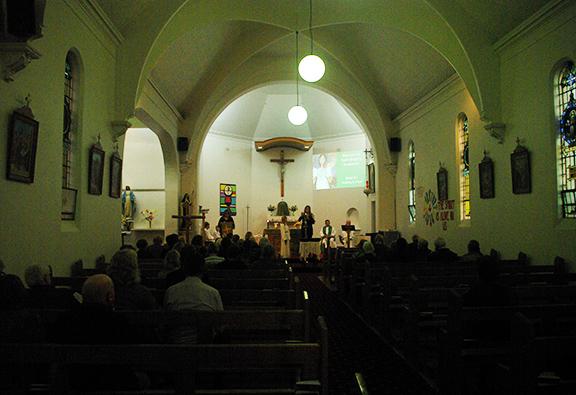 The regular number of a dozen or so for the Wednesday mass was augmented fivefold for a Eucharist of Healing and Hope. This was to be the first official response of the parish to the two episodes of sexual abuse of children that had ripped the community apart over 20 years.
How many lives were ruined by the two priests as they preyed on altar servers and other children has never been tallied. Loss of self esteem which is a lasting effect of sexual abuse leads many victims to keep to themselves.
This attempt at healing resulted from an initiative of the Lookout group whose members meet monthly to educate themselves about the effects of child sexual abuse and its causes. They offer support to victims and family members and work for the healing of both the parish and town communities.
A healing event, but not for all
Parish staff welcomed those who had not been in the church before, or not for many years. Their presence on this evening underlined the significance of the occasion and the risk it involved for many.
While this was a healing event for the parish community at large, among those most hurt there were some victims and some victimised families who were not able to be part of it. "It is never appropriate to have a healing service until the many prerequisite steps for reconciliation have been taken," wrote Pam Kristic in an open letter. Pam is a leading voice in calling for an adequate response from the church.
"It was not just bad priests but a flawed institution with rules that served to protect the perpetrators," wrote another parishioner, explaining why, with extreme regret, he could not take part in the mass. "The wreckage is everywhere and is not confined to Healesville," he added.
"If we are going to be able to protect children in the future we need to understand what it was in our beliefs, practices, rules and laws that enabled abuse to happen. It is far too early to say we have fixed the problem."
Nevertheless it was "a hope-filled experience" according to Ian Lawther who has worked tirelessly to have the church acknowledge the harm it has done. "We should not speak of victims or survivors," Ian says, "but of 'people suffering from child sexual abuse' , because suffering can be healed.
To focus on the suffering is to be aware that healing is gradual, progressive and comes from the life-force within. As medical professionals provide medications and care which aid the body's healing, so we need to provide the conditions in which those suffering from abuse may find in themselves the power of healing.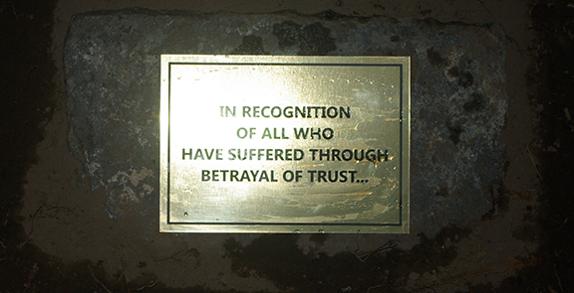 A simple human experience of being together
This liturgy was clearly designed to be a simple human experience of being together, "with healing in our touch", according to an expression used at one point in the ceremony.
A silence spread across the assembly as a man shouldering a nearly full-sized cross came slowly up the aisle towards the altar. The sounds of a plaintive Kyrie – Lord, have mercy echoed in the high ceiling as the clear tones of a woman's voice applied the symbol to our present situation:
"So many of us carry the scars of being hurt. Over two decades our parish community and our town have been grieving - for our children have been abused by those they trusted."
As the man slowly advanced, followed at a distance by the lone figure of the priest, the speaker outlined the five stages of our grieving:
"When we heard about this our reaction was to deny it. It was too terrible to think about...

Then we got angry. We turned on one another. We even blamed the victim...

No! No! No! This could not be! We thought there must be another explanation: a few bad apples; or the system; or the times we lived in...

"But the reality is that childen have been abused and their lives ruined. Some have died. And nothing can be done. There is no hope...

Tonight we stand together in hope. We ask for healing. We reach out to each other with healing in our touch. We cannot undo what has been done, but we can begin to live again with love..."
The priest, stretched prostrate on the floor before the altar then stood to pray, that the Spirit "heal our broken hearts, and our broken community, and our broken lives." "Teach us," he continued, "how to reach out and help those who have had their lives destroyed by abuse. Gently give them healing, by your grace."
Two short sentences from Paul's letter to the community in Rome teach that healing comes as a gift, discovered when we search our heart:
"The Spirit helps us in our weakness, for we do not know how we should pray but the Spirit intercedes for us with groanings too deep for words. One who searches the heart discovers the mind of the Spirit..." (8:26-27)
The focus shifted, from the Spirit in our hearts yearning for healing in our times, back to the historic Jesus and his special care for children: "Let the children come to me and do not stop them, because the kingdom of heaven belongs to such as these" (Mt 19:14).
In a short homily Fr Arsenio Tuazon spoke of his concern for the healing of the parish community. Then the people prayed for the children entrusted to us...; for all who have suffered through betrayal of trust...; for those who support the ones whose pain remains raw and is yet to heal...; for justice in our legal systems, to provide hope to those whose stories need to be heard...; and for those who do not feel comfortable in our parish community.
A string of colourful ribbons that had been for months stretched between the trees in the yard was carried into the church by two children. The ribbons will be preserved as a memorial.
The congregation was then invited to hold a small candle in the hand, and to pour into it their hurt, frustration, sadness, anger, grief and pain. Individually they approached the altar to light their candle from the Paschal Candle and place it there to burn away to nothing as the prayer of the mass continued.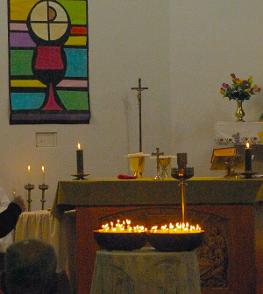 Candles burn away to nothing
Emotion welled up when participants were encouraged by the priest moving among the people to exchange a greeting of peace, a simple gesture that for many expressed a longing too deep for words.
After the Communion Maree Jefcott outlined the journey of the Lookout group that has led to this moment of beginning for the parish. It began four years ago as a simple gathering of more than 20 people.
A little bit about Lookout and what we do
"In 2014 the Lookout group took it's first steps," Maree recalled. "It was an attempt to find a way to respond to the pain and suffering of families in our local parish community – pain from both the initial abuse by clergy, and then from the cover-up and the locked door of the official church. The official policy was: Don't say a word.
"There was a sense of hopelessness felt in just standing by, and at the same time there was an overwhelming desire to try and do something, to walk alongside those suffering. And we wanted to do it here in our community, for our community.
"We are just ordinary people wanting to be there for victims/survivors, their families and friends, to provide a safe space where they would not feel rejected. A place where they could speak freely, where they would be listened to, believed and validated..
"It is now 4 years since that first meeting. We meet every month. We strive to learn about and raise awareness of abuse in the community. We have heard from professional speakers, for example, from ECASA, the police, various helping agencies. We have met with and visited other support groups, clergy and representatives of other churches. We know there will always be more we can learn and there is more growing ahead of us.
"But more than all the learning, we have experienced Lookout as a blessing to everyone who has come along and shared in this journey. We have also come to the realization that just by being able to share and to listen to each other in a safe place healing was happening.
Today is the beginning of a parish journey together.
"They didn't care then, they don't care now. These words of one who is a survivor, one who has been advocating on behalf of victims for 20 years, speak of an anguish that is lasting.
"Survivors feel they have been let down by the church. And they have been! 20 years have passed and the church has still not cared for its victims in this parish.
"But tonight we are gathering together as parish, as God's family, with hands outstretched to those so hurt, to show we care. What we are about is expressed in these words of one of our members:
We can heal our community in meeting with one another.
Then too we might be able to reach out to the wider community where people are hurting from abuse and its long term effects.
Let's keep talking about the whole issue till we get the better of it.
"From our experience we would share these discoveries:
We want to support them but we will see it is they who will support us.
We want to help them in their need but we will see it is us who need them.
We want to show the way but it is they who will lead us.
Let us walk ahead together, a new journey where they will help us heal,
and we will heal together."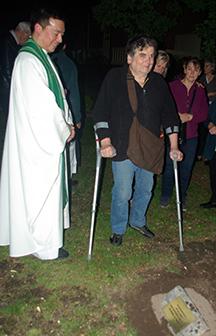 Permanent memorial
The bronze plaque set in concrete at the foot of the old oak in the church grounds was dedicated with a simple blessing. The inscription reads:
IN RECOGNITION
OF ALL WHO HAVE SUFFERED
THROUGH BETRAYAL OF TRUST...